---
Into Day Two of the 2020 NFL Draft. This is when Super Bowls are won. Day Two is where teams are built.
Let's meet the next generation of FBU alumni taking their talents to the League.
34. Indianapolis Colts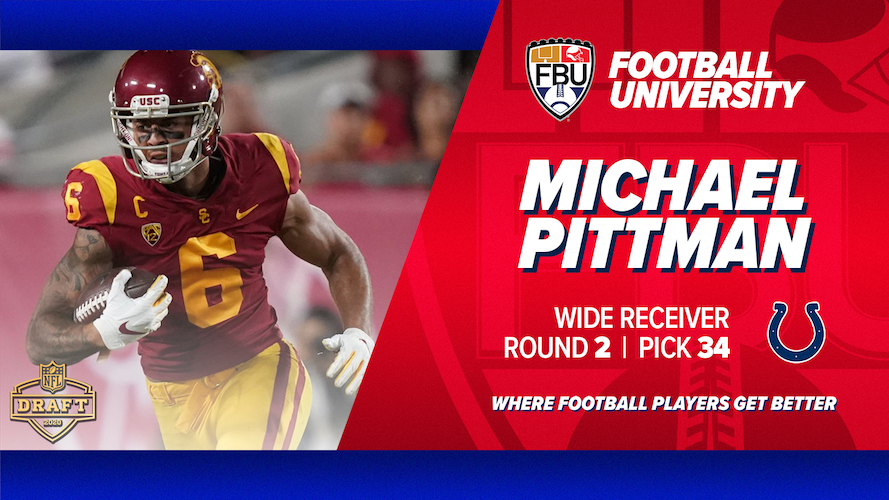 The Pick | Michael Pittman, Wide Receiver, USC
FBU Los Angeles
All-American Bowl on NBC (2016)
Pittman earned First Team All-Pac-12 accolades as a sophomore for his special teams work, while starting six games at wide receiver. He missed two games as a junior and had surgery after the season, but still totaled 41 receptions for 758 yards (18.5 average). He saved his best for last, finishing 2019 as one of the nation's top producers at wide receiver: 101 catches, 1,275 yards (12.6 average) and 11 touchdowns; he earned Second Team All-American honors and was a Biletnikoff Award finalist. Pittman is a chain-mover with the size, strength and ball skills that can take care of the dirty work between the hashes. He comes from NFL bloodlines and should contribute right away as a plug-and-play wide receiver in Indianapolis.
35. Detroit Lions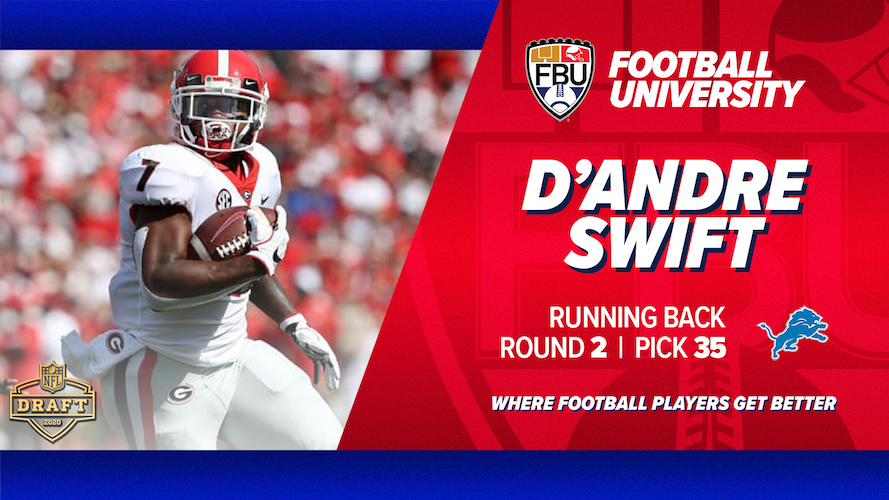 The Pick | D'Andre Swift, Running Back, Georgia
FBU Philadelphia
FBU Top Gun
All-American Bowl on NBC (2017)
A highly touted recruit out of Philadelphia, D'Andre Swift is appropriately named. He made up arguably the nation's top backfield his first year in Athens with Sony Michel and Nick Chubb, still earning SEC All-Freshman honors despite the roadblock to snaps. As a sophomore in 2018, Swift led the Dawgs in rushing with 1,049 yards and 10 touchdowns, chipping in with 32 catches for 297 yards. He earned First Team All-SEC in 2019 with 1,218 yards and seven touchdowns. Swift already possesses the play traits and running style of an NFL veteran. He is an outstanding runner between the tackles and on the permiter, and has flashed elite pass catching skills in college. Matt Stafford has played most of his career without an elite RB1 – Swift could change that.
40. Houston Texans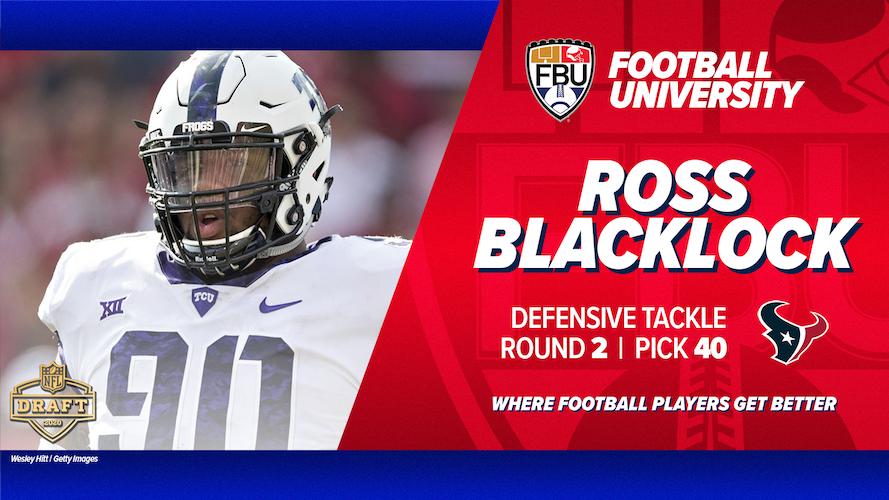 The Pick | Ross Blacklock, Defensive Tackle, Texas Christian
FBU Houston
FBU Top Gun
All-American Bowl on NBC (2016)
Blacklock showed plenty of promise as a redshirt frosh, earning Freshman All-American and Big 12 Defensive Freshman of the Year with 27 tackles, 6.5 for loss, and two sacks. In 2018, Blacklock missed the entire year with an Achilles injury. He shed 25 pounds and came back with a vengeance in 2019 earning First Team All-Big 12 after posting 40 tackles, 9 for loss, and 3.5 sacks. His father is a former Harlem Globetrotter. As a prospect, Blacklock is a high motor interior defender with elite first-step burst. He's a natural penetrator capable of shooting gaps and shoring up the Texans defensive line.
46. Denver Broncos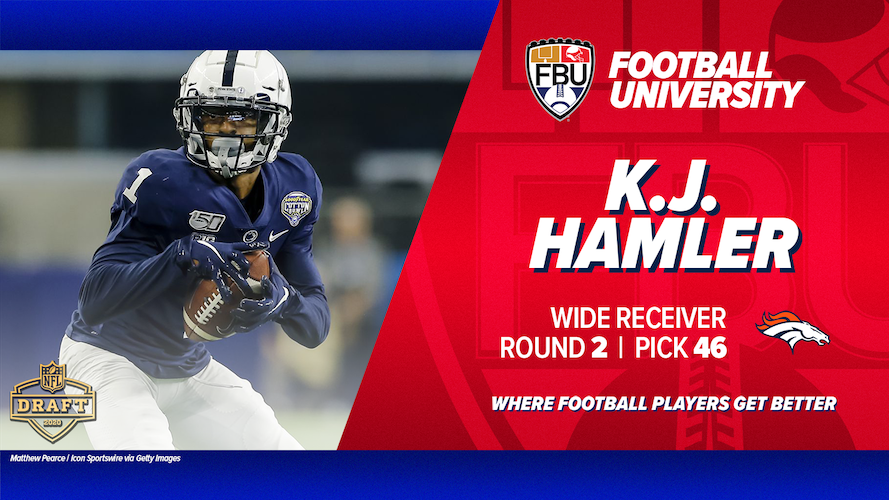 The Pick | K.J. Hamler, Wide Receiver, Penn State
FBU Top Gun
After selecting fellow FBU alum Jerry Jeudy in round one, Denver adds more speed to its receiving corps with K.J. Hamler. An ACL tear forced him to redshirt his first year in Happy Valley. He returned in 2018 to start every game and post a 42-754-5 line at receiver and a 26.2 kick return average. He once again started every game in 2019, receiving Second Team All-Big Ten honors after collecting 56 passes for 904 yards (16.1 average) and eight touchdowns. Hamler is an explosive slot target with big play potential every time he touches the ball – on offense and special teams. Size is a concern in some scouting circles, plus he needs to improve his hands and his strength & balance in his routes – but at the end of the day speed kills, and Hamler has loads of it.
52. Los Angeles Rams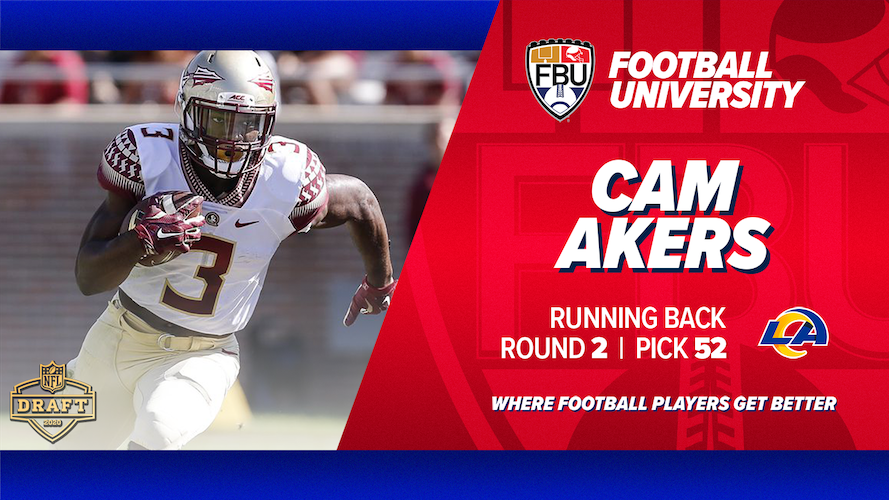 The Pick | Cam Akers, Running Back, Florida State
FBU Top Gun
FBU All-American (2013)
All-American Bowl on NBC (2017)
The nation's top running back in the 2017 class, Akers capped his high school career by earning the U.S. Army Player of the Year and Mississippi's Mr. Football awards following his senior season as a dual-threat quarterback. At Florida State, Akers broke Dalvin Cook's freshman rushing record after leading the Noles with 1,024 yards. He followed that up by again leading FSU in rushing, although his production dipped significantly (706 yards) as the entire team struggled. He looked a lot more like the Akers we know in 2019, earning Second Team All-ACC accolades after a season that saw 1,144 rushing yards and 14 touchdowns, along with 225 receiving yards and four scores through the air. Despite a disappointing lack of blocking in front of him, Akers still posted career totals that speak to his overall football ability, often needing to find his productivity on his own. He can cut on a dime, possesses elite vision and instincts, and has outstanding balance and body control. All that compliments 4.47 speed. He's a three-down back that is poised to excel as the RB1 in McVay's system in LA.
54. Buffalo Bills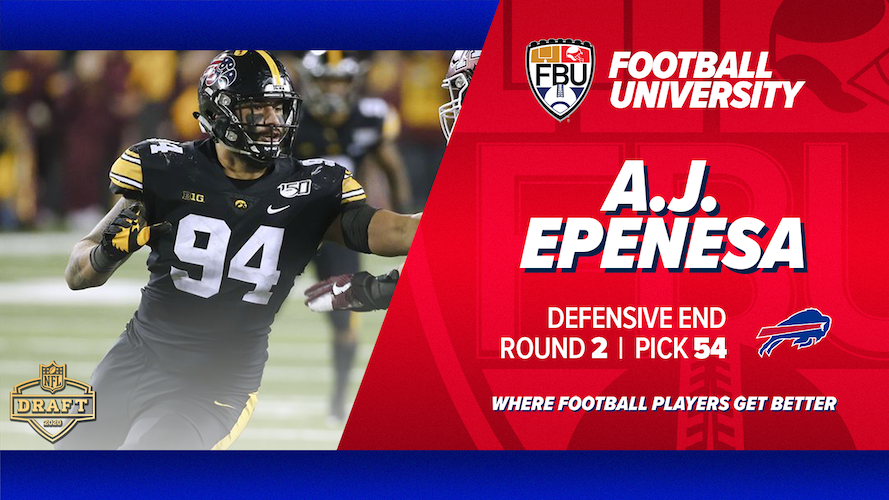 The Pick | A.J. Epenesa, Defensive End, Iowa
FBU St. Louis
All-American Bowl on NBC (2017)
A five star in the 2017 recruiting cycle, Epenesa followed in the footsteps of his father as a legacy at Iowa. With the Hawkeyes, he was in the rotation early on but had to wait before he could earn his time as a starter. He still racked up 4.5 sacks in limited action his freshman year. As a sophomore he earned Second Team All-Big Ten honors with 10.5 sacks and 16.5 tackles for loss despite not starting any games. Epenesa came on strong at the end of 2019 flashing his ability as a potential top-50 pick, receiving Second Team All-American honors after posting 49 tackles, 14.5 for loss, 11.5 sacks and four forced fumbles. He's a blue-collar pass rusher with an arsenal of power moves. Epenesa already has impressive hand combat, and he can make the leap from good to Pro Bowl-caliber with increased explosiveness.
62. Green Bay Packers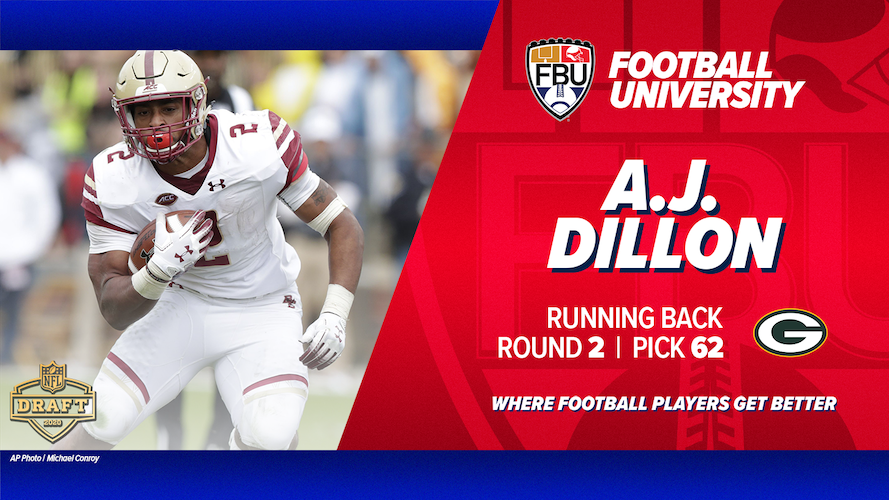 The Pick | A.J. Dillon, Running Back, Boston College
FBU Connecticut
FBU Top Gun
The grandson of College Football Hall of Famer Thom Gatewood, Notre Dame's first African-American team captain, A.J. Dillon is a big, bruising back with a downhill running style. He immediately took the reigns at running back in Chestnut Hill as a true freshman, winning ACC Rookie of the Year and Freshman All-American honors by ranking seventh in the country with 1,589 rushing yards and scoring 13 touchdowns. He started ten games in 2018, earning First Team All-ACC with 1,108 rushing yards and ten touchdowns. He finished 2019 among the national leaders in carries (318) and yards (1,685) while scoring 14 touchdowns to earn Third Team All-American accolades. Dillon has lots of tread on his tires through difficult conditions behind BC's line. But the draft capital of a second round pick speaks for itself. He is an old school workhorse who is built like a bus, but still possesses enough vision and finesse to not just offer power. Dillon adds an intriguing dimension to the Packers offensive gameplans.
71. Baltimore Ravens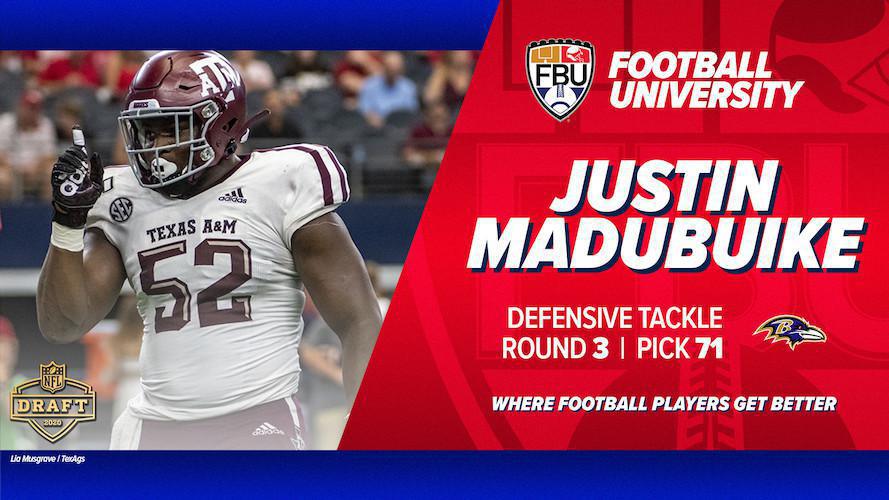 The Pick | Justin Madubuike, Defensive Tackle, Texas A&M
FBU Dallas
All-American Bowl on NBC (2016)
Madubuike became a force for the Aggies as a sophomore, earning the team's Defensive MVP award after leading the squad with three forced fumbles and 6.5 sacks to go along with his 40 tackles (10.5 for loss). He continued his production as a junior, topping the A&M defense with 11.5 tackles for loss and 5.5 sacks. Madubuike lacks NFL mass, but wins big with a high motor, leverage, and quickness. He wears down blockers with his relentless style of play and strong hands. He lands in a really good spot in Baltimore to potentially develop into a future starter.
81. Las Vegas Raiders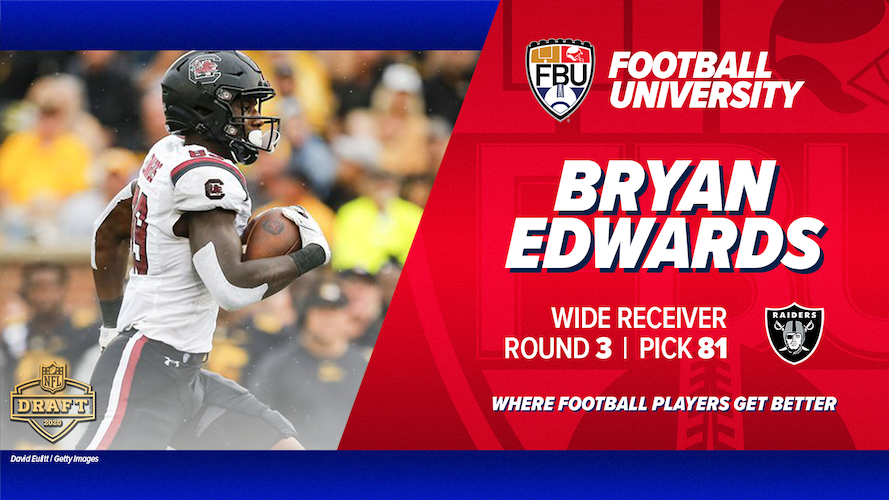 The Pick | Bryan Edwards, Wide Receiver, South Carolina
FBU Top Gun
All-American Bowl on NBC (2016)
Initially offered a scholarship to South Carolina as a 13 year old, Edwards started 12 games as a freshman and earned Freshman All-American honors with a 44-590-4 line. Edwards continued that success in 2017, earning the team's Offensive MVP award after leading the team with 64 receptions for 793 yards and five touchdowns. In 2018 he turned fewer receptions (55) into more yards (846) and more trips to the endzone (7). Edwards finished his college career with Second Team All-SEC accolades after, once again, leading the Gamecocks with 71 receptions for 816 yards and six touchdowns. He missed the final two games of his senior season and was forced to miss out on Combine testing due to lower body injuries. Edwards was certainly worthy of a pick on day two after a consistently productive, four-year collegiate career. He needs to fine tune his route running at the next level, but at the moment he has very good size & strength and is a projectable height-weight-speed prospect.
95. Denver Broncos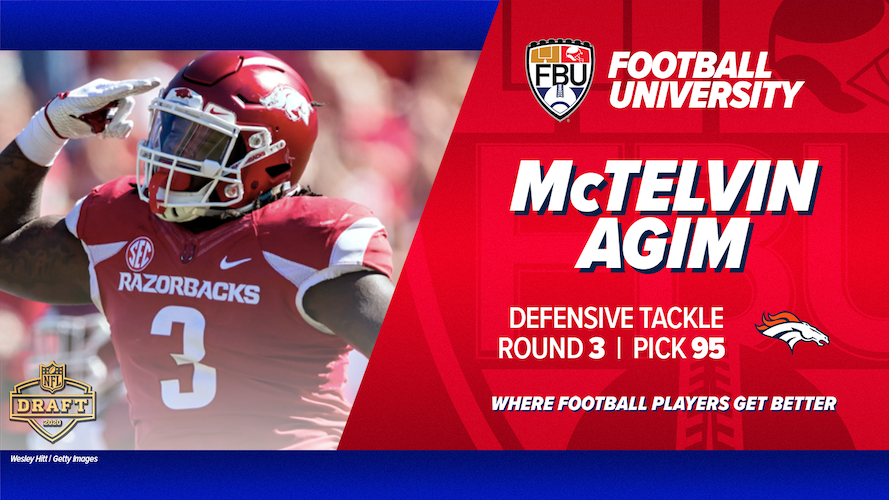 The Pick | McTelvin Agim, Defensive Tackle, Arkansas
FBU Top Gun
Agim, Arkansas' Gatorade Player of the Year, enrolled at Arkansas as the Razorbacks' first five star since 2009. He played in all 13 games his freshman season, starting the final five, to the tune of 27 tackles, 5.5 for loss and 2.5 sacks, to earn SEC All-Freshman honors. He led Arkansas with 10 tackles for loss in 2018, racking up 45 tackles and 4.5 sacks. He rounded out his collegiate career by again leading the defense with 8.5 tackles for loss, in addition to 39 tackles. Agin started his career at defensive end and only has one year at DT, making him a developmental interior prospect at this time with inconsistent technique. But he has all the physical traits to put it together, including good strength and power that showed during Shrine Bowl practices. He has quickness off the snap and rush talent to become a factor in Denver's defensive line.
---
In total, Football University is up to 405 NFL Draft selections entering Day Three of the 2020 NFL Draft.
Follow along for the rest of the 2020 NFL Draft @FBUcamp on Twitter, and @footballuniversity on Instagram