Finally, the NFL Draft is here. Your new favorite pro players have arrived.
It's an NFL Draft weekend unlike any other before it, and we'll remember this one forever.
We had a huge night during Round One — six of the top 15 and eight total. Let's take a closer look at the alumni of the FBU brand and the impacts they could make in the League.
3. Detroit Lions
The Pick | Jeff Okudah, Cornerback, Ohio State
FBU Freshman All-American Bowl (2014)
All-American Bowl on NBC (2017)
Okudah started every game for the Buckeyes in 2019, gernering First Team All-American and First Team All-Big Ten honors and was a finalist for the Jim Thorpe Award (nation's best DB). He's an organization's dream prospect with elite physical ability, blue-chip mental makeup and character, and eloquent technique. He possesses the size, length, and footwork necessary to be a brick wall in press coverage and elite closing speed to close catch windows or eliminate yards after catch. Placing further trust on his traits and speed could elevate him to one of the top cornerbacks in the game in a very short time.
4. New York Giants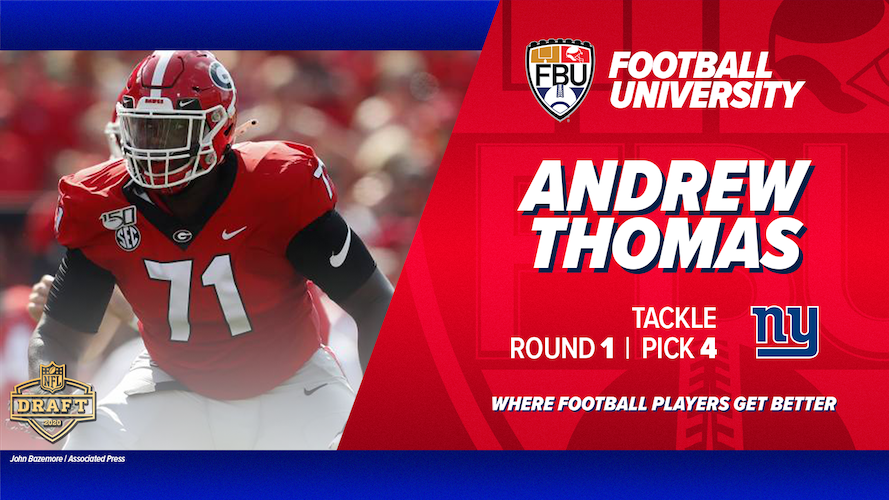 The Pick | Andrew Thomas, Tackle, Georgia
2x FBU Top Gun
All-American Bowl on NBC (2017)
A top-50 overall recruit in the class of 2017, Thomas stepped right into the starting lineup at right tackle for Georgia, garnering Freshman All-American honors. He moved to left tackle as a sophomore where he anchored the Bulldogs offensive line for two consecutive seasons, earning All-American honors at the conclusion of both. As a three-year starter for a major program, Thomas comes to New York very well-coached and with very good technique. He's the top run blocking prospect in this draft class and is a Day 1 starter for the Giants who continue to revamp their offenisve line.
5. Miami Dolphins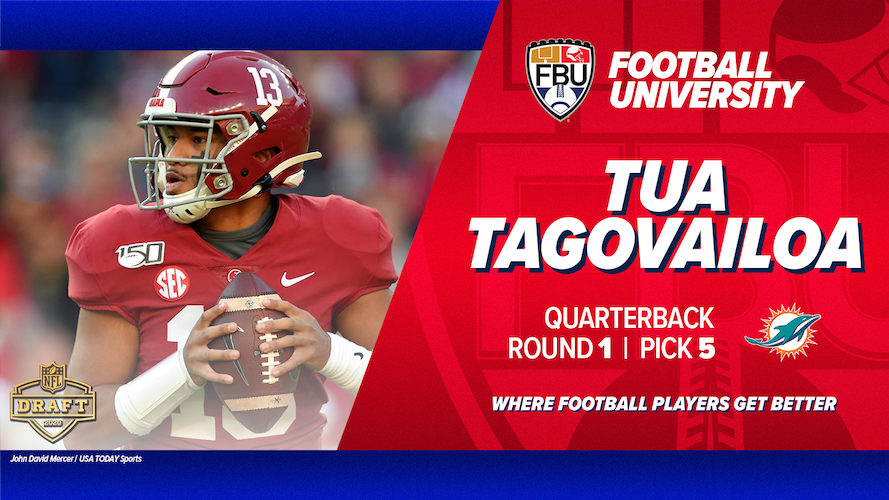 The Pick | Tua Tagovailoa, Quarterback, Alabama
2x FBU Top Gun
All-American Bowl on NBC (2017)
Tua became a household name as a true freshman, leading Alabama to a comeback in the second half of the National Championship game. As a follow-up he won the Maxwell Award as a sophomore. Cut to just nine starts in 2019, he still produced 2,840 yards and 33 TD as he fought an ankle issue and then suffered a non-career threatening hip injury. Tua is a talented dual-threat quarterback that fits the mold of NFL dual-threats. He has a winning background, explosive production — career 8:1 TD:INT ratio and the Tide's all-time leader in passing touchdowns — and tons of experience in high leverage games. When healthy, he compares favorably to Drew Brees. If Miami can keep him upright, he can be a consistent All-Pro.
7. Carolina Panthers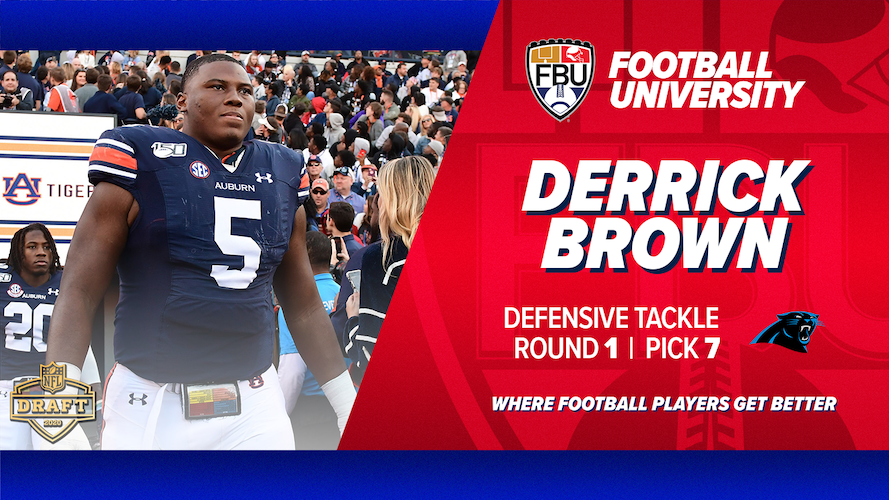 The Pick | Derrick Brown, Defensive Tackle, Auburn
2x FBU Top Gun
All-American Bowl on NBC (2016)
A top-10 recruit out of high school, Brown was awarded Defensive Player of the Year as an Army All-American. As a student at Auburn he produced a highly decorated college career, both on and off the field. As a student he was named to the SEC's Student-Athlete Leadership Council in 2017. On the field, he became a full-time starter in 2017 for the Tigers and immediately made an impact. After an All-SEC season in 2018 and likely being a top draft choice, Brown returned to Auburn for his senior season in 2019 where he was a First Team All-American and the recipient of the Lott IMPACT Trophy. His rare combination of size and disruption on the interior made him a consensus top-5 "best player available" in most scouting circles, and his tape backed that up where he would routinely destroy his competition. He should become a high impact starter early in Carolina's defense, with the potential for a career with multiple All-Pro honors.
11. New York Jets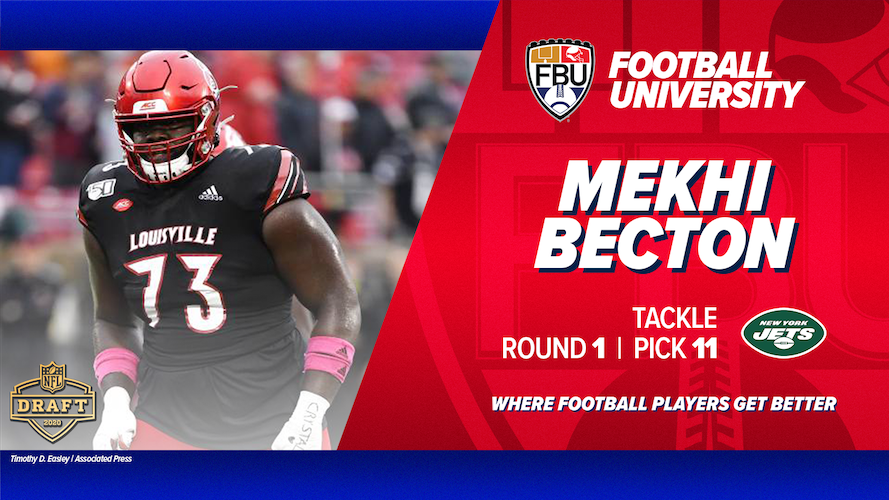 The Pick | Mekhi Becton, Tackle, Louisville
FBU Top Gun
6'7″. 364 pounds. 5.1 40.
Mekhi Becton introduced himself to the country as the heaviest prospect to ever run a sub-5.2 40. But he was well-known before that to ACC opponents. Becton started ten games as a freshman at right tackle, twelve as a sophomore at both tackle spots, and 11 at left tackle as a junior. Following his junior season he was named First Team All-ACC. Becton has an enormous frame and a rare 7-foot wingspan that is complimented by surprisingly nimble feet and athleticism that could handle either tackle spot for the Jets. His combination of movement and strength fits into any running scheme, and his technique and set are better than expected in pass-pro but he needs to continue to work there. Overall, the Jets have the tackle with the highest potential in the draft thanks to his giant frame and violent finishing power with smooth agility for his size.
15. Denver Broncos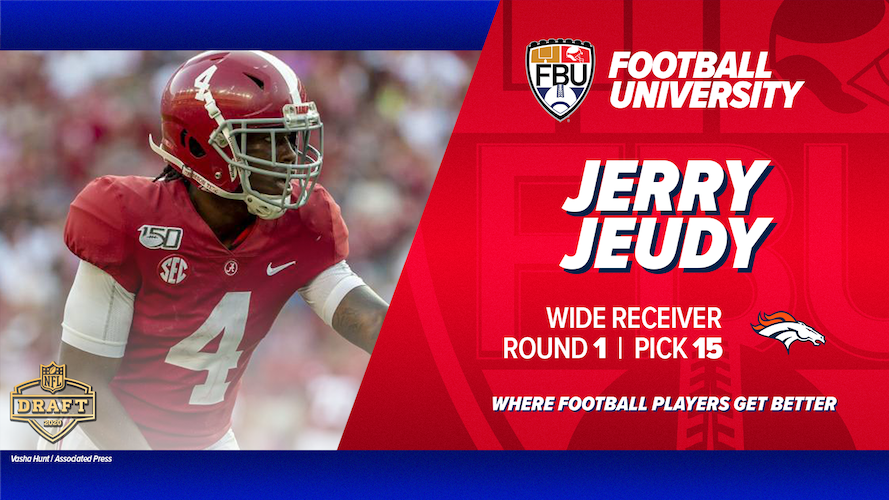 The Pick | Jerry Jeudy, Wide Receiver, Alabama
2x FBU Orlando
Alabama has produced some great receivers recently — Julio Jones, Amari Cooper, Calvin Ridley. Add Jerry Jeudy to that list. Jeudy joined Amari Cooper as an Alabama Biletnikoff Award winner following his sophomore season (1,315 yards, 14 TD) where he also earned First Team All-American and First Team All-SEC notice. He followed that up in 2019 with another All-SEC honor as he led the Crimson Tide with 77 receptions. As a pro prospect, he might be the best route runner coming into the league of the last ten years. He mixes tight, crisp routes with impressive top-end speed to keep defensive coordinators up at night. He specializes in linear routes with great feel for leveraging and then stemming defenders away from the ball. Contested catches and hand strength needs some improvement against the bigger and faster matchups across from him in the NFL. But, that's about all that needs work. He can line up inside or outside, and can do damage as a deep threat or a volume target. He's a Pro Bowl-caliber WR1 and a steal at 15 overall.
18. Miami Dolphins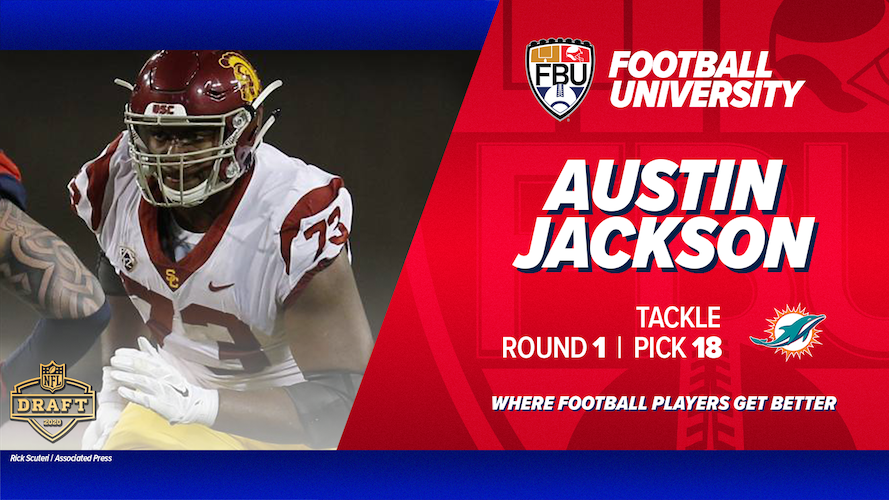 The Pick | Austin Jackson, Tackle, USC
FBU Top Gun
All-American Bowl on NBC (2017)
A top-50 prospect in the class of 2017, Jackson chose to attend USC where he played in every game and was a starter at left tackle for his sophomore and junior seasons. His decision to choose USC was easy in comparison to his decision to donate bone marrow to his younger sister in the summer of 2019. The procedure went well and Jackson returned to the Trojans in time for his junior year. Jackson's grandfather, Melvin, played on the offensive line for the Trojans' 1974 National Championship team and for the Packers. Jackson has tremendous upside as he continues to develop, as he won't turn 21 until May of 2020. Because of his bone marrow donation, he displayed less than ideal power in 2019, but the Jackson we mostly saw on tape is not the Jackson the Dolphins are getting. He has loads of athletic ability on his 6'5″, 320-pound frame and his technique will only improve as his career takes off. Miami has their franchise quarterback in FBU alum Tua Tagovailoa, and they are betting Austin Jackson will become their cornerstone at left tackle.
28. Baltimore Ravens
The Pick | Patrick Queen, Linebacker, LSU
FBU Houston
FBU Top Gun
LSU is becoming a factory for linebackers, with Devin White and Deion Jones making their way from Baton Rouge to the NFL. And, Baltimore doesn't miss when they draft linebackers in Round One — Ray Lewis, Peter Boulware, CJ Mosely, Terrell Suggs. Enter Patrick Queen, an LSU linebacker drafted by Baltimore in the first round. Queen ended his 2018 campaign with lots of momentum, leading the Tiger defense in tackles in their bowl game. He continued that progress in 2019, highlighted by 85 tackles, 12 tackles for loss, three sacks and an interception. Queen was one of the draft's fastest risers, as his athleticism and sideline-to-sideline range were on display during LSU's run to the national title. His ability to make plays inside the box and the way he hunts and patrols the middle of the field make this an exciting pick; his vast potential to improve is exciting as well.

---
In total, Football University is up to 395 NFL Draft selections entering round two of the 2020 NFL Draft.
Follow along for the rest of the 2020 NFL Draft @FBUcamp on Twitter, and @footballuniversity on Instagram.