---
The final day of the 2020 NFL Draft is here. Day Three is where the majority of rosters are found – typically 65% of a team's roster will be of day three picks. or UDFA signings
Let's meet the next generation of FBU alumni taking their talents to the League.
110. New York Giants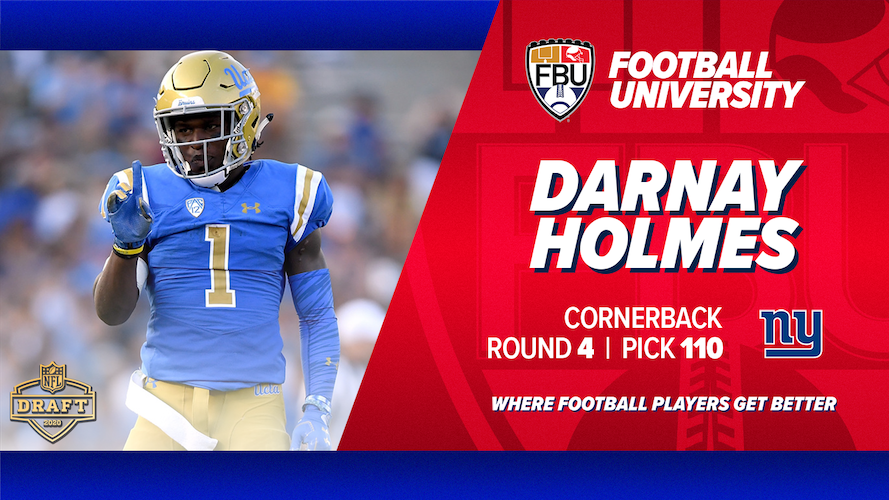 The Pick | Darnay Holmes, Cornerback, UCLA
FBU Los Angeles
All-American Bowl on NBC (2017)
The fourth pick of the fourth round comes to New York with the work ethic and athleticism required to stick in the NFL for years. Holmes, a five star in the 2017 recruiting cycle, graduated from UCLA in less than three years. He enrolled a semester early in 2017 and started 11 games as a true freshman. He led the Bruins with three interceptions and 11 pass breakups as a sophomore, and turned in two interceptions and six pass breakups in ten games in 2019 after missing the first two games of the season. The Giants defense ranked in the bottom five in pass yards allowed, completion perecnetage allowed, and passer rating last season. A secondary player like Holmes – playmaking abaility, ball skills and speed are all positives – was a must get in this draft. He could carve out a nickel role early on.
122. Indianapolis Colts
The Pick | Jacob Eason, Quarterback, Washington
FBU Seattle
FBU Top Gun
All-American Bowl on NBC (2016)
Eason was the top pro-style quarterback prospect in his recuriting class. He earned the Gatorade National Player of the Year and the U.S. Army Player of the Year awards. As a true freshman at Georgia, he grabbed the starting job for 12 out of 13 games, tossing 2,430 yards and 16 touchdowns.He entered 2017 as the starter, but exited the opener with a knee injury; freshman Jake Fromm replaced him and never looked back. Eason transferred back to his home state to play for the Washington Huskies, starting all 13 games in 2019 and completing 64% of his passes to the tune of 3,132 yards and 23 touchdowns. His elite size and arm talent remind some of Carson Palmer coming out, but he has work to do still in other areas. Eason's struggled with pocket poise, especially against blitzes, and getting through progressions cleanly and correctly. He's in a great spot to learn behind Rivers and will pick up plenty from Head Coach Frank Reich. Eason offers the potential to one day be a good NFL starter after a year or two of grooming.
125. New York Jets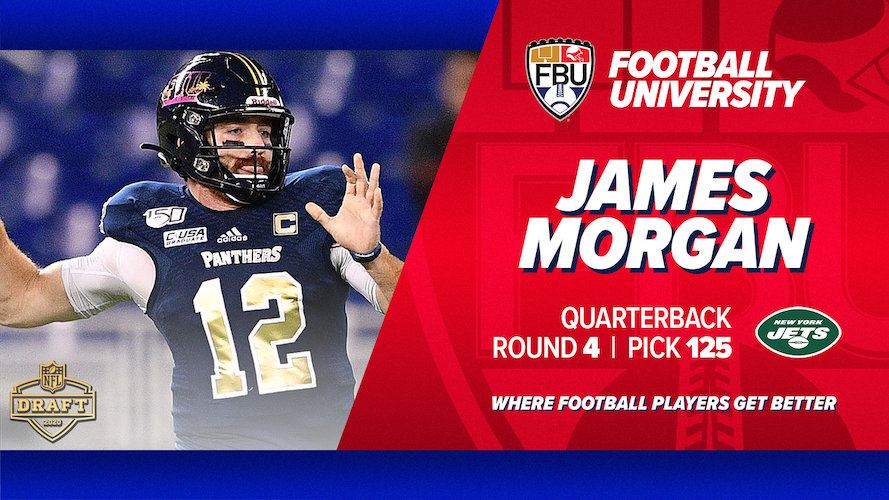 The Pick | James Morgan, Quarterback, Florida International
FBU Top Gun
FBU Freshman All-American Bowl (2012)
Growing up in the shadows of Lambeau Field and even wearing Brett Favre's number 4 in high school, Morgan was a star at Ashwaubenon High in Wisconsin. He started his collegiate career in the MAC at Bowling Green, earning the starting role for seven games. He rotated between starter and backup for his first two years before transferring to FIU where his career took off. In 2018 he was Conference USA Newcomer of the Year after completing 65.3 percent of his passes for 2,727 yards and a school-record 26 touchdowns. Morgan threw for 25,85 yards in 2019 with 14 touchdowns. As a prospect, it's easy to tell he grew up a Favre fan; he has similar zip and can spin the pill with just the flick of the wrist. Morgan is also a very tough competitor, willing to hang in the pocket and take a hit to release the correct throw. His style makes it hard to find a consistent rhythm, and he throws short passes maybe harder than any quarterback we've ever seen. But because of that he can make some throws that many others can't, and that makes him a worthy mid-round pick. He's a short-term backup who is on the cusp of maybe developing into a starter further down the road.
141. Houston Texans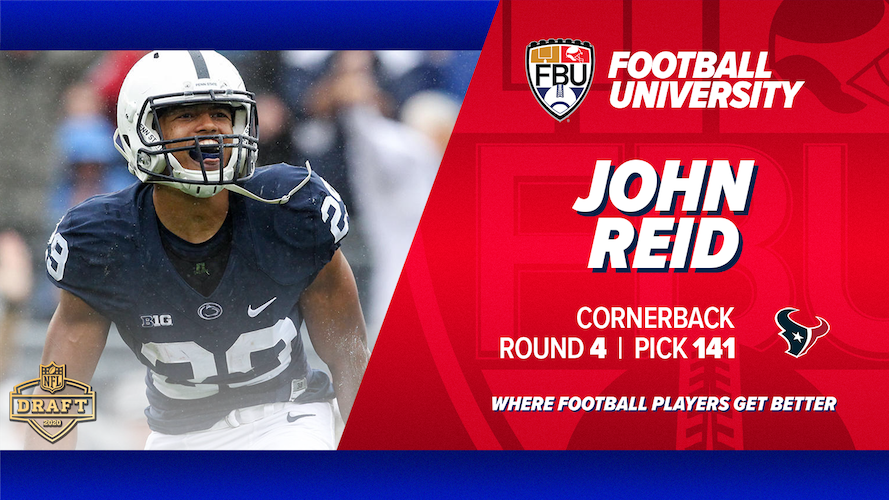 The Pick | John Reid, Cornerback, Penn State
FBU Philadelphia
All-American Bowl on NBC (2015)
A four star and top-20 cornerback prospect nationally, Reid appeared in every game as a freshman, making two starts. He was an Honorable Mention All-Big Ten selection in 2016, starting all 14 games with 36 tackles, nine pass breakups and one pick. He missed all of 2017 with a knee injury but returned from his redshirt year to again earn H.M. All-Big Ten with two interceptions and eight pass breakups in 11 starts. He earned a third Honorable Mention All-Big Ten honor as a senior with 37 tackles, two interceptions and eight pass breakups. Reid plays with a competitive and physical demeanor who projects to slot coverage. He excels in mirror technique, flashing rapid-fire steps in sync with the receiver in front of him. Physical limitations (5'10", 187) may limit his ceiling, but his competitiveness and football IQ combined with 4.49 speed make him a good addition to Houston's secondary.
185. Miami Dolphins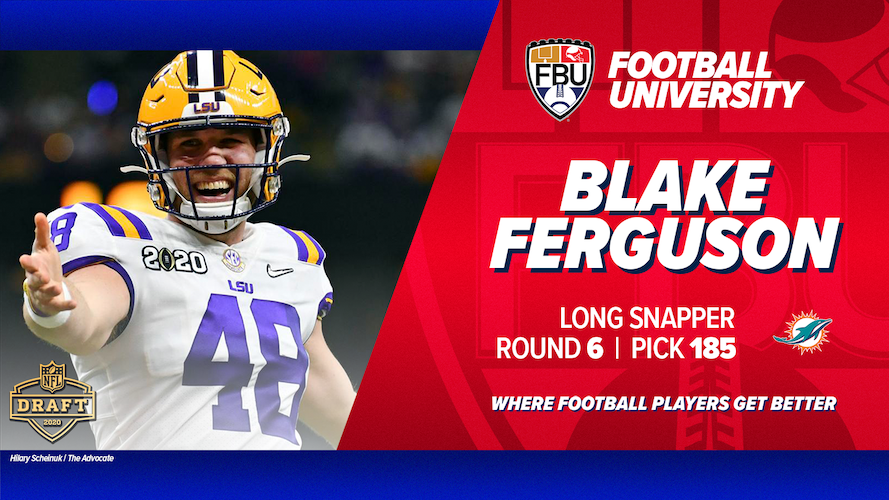 The Pick | Blake Ferguson, Long Snapper, LSU
FBU Top Gun
All-American Bowl on NBC (2015)
An LSU legacy, whose brother Reid also snaps in the NFL, Blake arrived in Baton Rouge as the nation's top long snapper two years running. He held a two-year long solid verbal commitment to the Tigers. With his brother, LSU had eight straight seasons of Ferguson snaps. Blake was elected team captain in both 2018 and 2019. He is a Type I diabetic and has worked with various charities to raise awareness surrounding the condition. He possesses exceptional character for the locker room and the community. Ferguson can consistently deliver frozen ropes with perfect placement for both kicks and punts.
199. Los Angeles Rams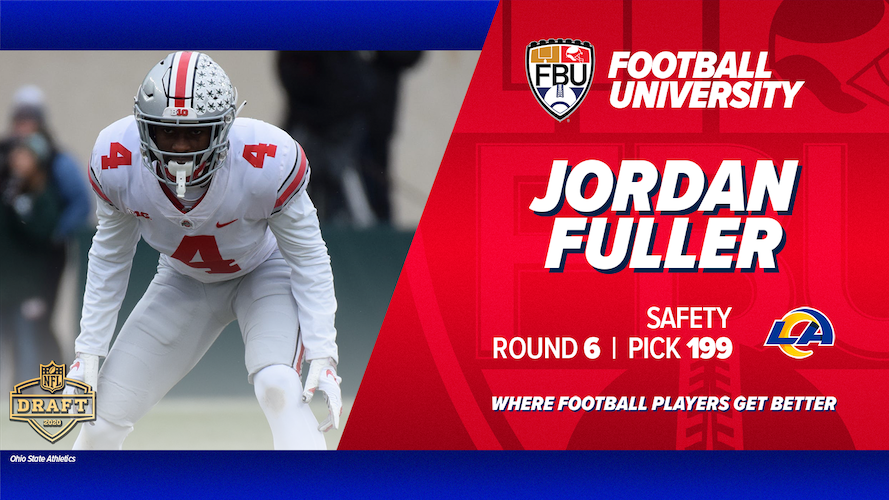 The Pick | Jordan Fuller, Safety, Ohio State
FBU New Jersey
All-American Bowl on NBC (2016)
Jordan Fuller is an excellent football player and a tremendous all around student-athlete. The 2015 New Jersey Gatorade Player of the Year helped his high school win their first state title in 30 years, then contributed immediately as a freshman in Columbus by playing in all 13 games. He was a First Team Academic All-American in 2017 while posting 70 tackles and two picks as a starter. His junior season saw Fuller tie for the team lead in tackles with 81 to go along with an interception and four pass breakups. He followed that up with First Team All-Big Ten honors as a senior in 2019, finishing the year with 62 tackles, four pass breakups, and two interceptions. He captained the Buckeyes in 2018 and 2019. Fuller brings leadership traits and intangibles on and off the field. He projects right now as a quality backup who can rotate in as a split-safety who matches well against tight ends. His intelligence and football IQ could earn him increased playing time in the right system.
222. Arizona Cardinals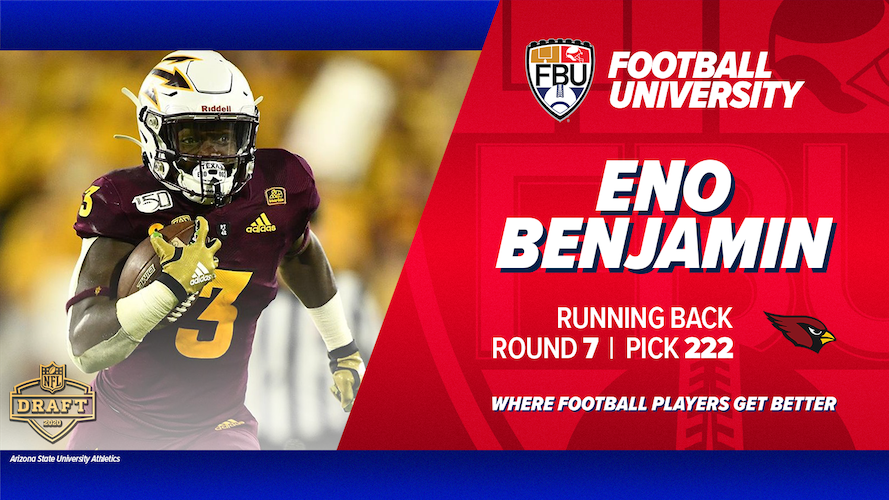 The Pick | Eno Benjamin, Running Back, Arizona State
FBU Dallas
All-American Bowl on NBC (2017)
A finalist for the U.S. Army Player of the Year after a standout career and senior season at Wylie East (Wylie, Texas). Benjamin became the Sun Devils bellcow back as a sophomore, toting the rock a school-record 300 times for 1,642 yards and 16 touchdowns. That earned him Third Team All-American, First Team All-Pac 12, and Team MVP accolades. Those sophomore totals ranked Benjamin fifth in the nation in yards and ninth in the nation in touchdowns. And he caught 35 passes for 263 yards. That's 335 total touches, and he only fumbled once. He followed that up by not receiving as many touches in 2019, but still earned First Team All-Pac 12 honors, to finish with 1,083 yards rushing and 10 touchdowns; he had 347 receiving yards and two touchdowns. As a pro prospect, Benjamin is slightly undersized but has proven he has three-down ability with his skills and production on display in college. He runs with an excellent demeanor and great vision, combined with shifty elusiveness. He had a noticable drop in production in 2019, could take some time to adjust to a pro rushing attack, and isn't necessarily explosive. But, he is an effective pass catcher and could offer some immediate contributions as a rookie in Kingsbury's offense. In the seventh round, it's an absolute steal for a prospect that received a mid-round evaluation.
---
In total, Football University is up to 412 NFL Draft selections following the conclusion of the 2020 NFL Draft.
It all starts at FBU.
This is where football players get better.